2021 ORDERING INFORMATION
We only sell to licensed general and master falconers and raptor propagators in the U.S. We no longer export.
We sell our pedigreed, selectively bred Harris's Hawks to falconers who are going to hunt them extensively. Young are parent-raised and kept with the parents for at least 15 to 20 weeks. This time spent with parents and siblings is critical to proper socialization training. We do not sell imprints or nestlings, as this makes for a dangerous Harris's Hawk, one that is likely to attack humans.

Females and males are $1,000. We require a non-refundable deposit of $200 per hawk and a copy of your current license. We will only accept a deposit after you have passed a phone interview. Once you have passed your interview, you may make out a check for $200 payable to Tom Coulson and mail it to: Tom Coulson, 64340 Fogg Lane, Pearl River, LA 70452. Shipping costs about $160, and returning our shipping crate 'as is' costs about $25 through the U.S. Postal Service (Standard or Parcel Post).

We will start taking orders for the 2021 hatch on March 1, 2021. Call (985) 863-8516 CST for email us for more information: jacoulson at aol.com

Colorado, Utah and Wisconsin have additional import permits requirements. If you are a falconer living in one of these states, we will only sell a bird to you if you manage the import paperwork on you end.

All falconers hunting with Harris's Hawks should read our book, The Harris's Hawk Revolution. We've trained and hunted with many Harris's Hawks, and our collective experience will help novices and Master Falconers alike. Our 661-page book contains a gold mine of falconry information, and we, the authors, consult it on a regular basis. Most importantly, our book has more information about actual hunting than the typical falconry book does.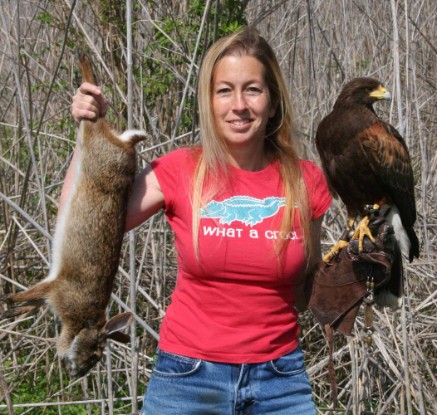 Jenn, Tipitina and a Swamp Rabbit